Install Guide and FAQ's
Corona virus Notice.

With the corona virus (COVID-19) situation changing daily, we believe it's important to be transparent about how The Ground Screw Centre is responding to the outbreak. Our philosophy as a business is to approach this situation with empathy and urgency; The Ground Screw Centre's priority is the health and safety of our employees and other communities we have contact with including our customers, suppliers couriers etc.
Given how rapidly the outbreak is evolving, we expect our approach to be re-assessed constantly to ensure the health and safety and the well-being of our employees and customers is maintained, whilst at the same time keeping any disruptions to a minimum.
Although we hold good stocks of ground screws, brackets and install tools in order to meet customer demand, as with any business, we also rely on various suppliers for ancillary supplies and services (e.g. packaging, disposables, haulage, courier service etc) to meet our ongoing needs, which, although not currently affected, the supply of which may well be disrupted for short periods, due to supply chains/services being disrupted for reasons beyond our control.
If, due to the corona virus, normal business is affected, we will inform our customers immediately, via our website and email where possible.
HOWEVER, that's enough gloom and doom! On a much more positive note, we continue to be busier than ever, we are selling more grounds screws than ever and we are currently operating at normal capacity.
If you have any questions regarding your order or the any of the above, please email us for more information.
In the meantime, thank you for your continued support.
The Ground Screw Centre Team
(March 2020)
Click here to see Ground Screw Installation Video
Ground Screw Installation Instructions
It is always advisable to scan for underground services before any installation.
Always wear appropriate PPE.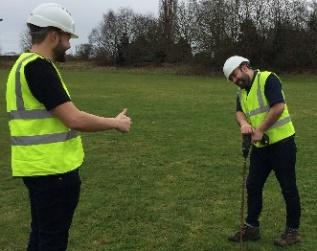 Once you have marked the position for installation we recommend you pre-drill a hole prior to installing your ground screw using a 16mm-25mm drill. Although this is not completely necessary it will help in 2 ways, firstly it will identify any obstructions that may be below ground such as large rocks and bricks which could hinder installation, and secondly pre-drilling will help to ensure installation is vertical as your ground screw will follow the line of the drilled hole. It is advisable to have a 2nd person at hand to help sight the drill to ensure it is vertical from a few metres away.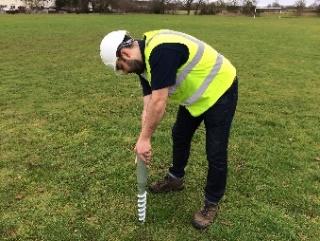 Start your ground screw by hand until it becomes too hard to turn.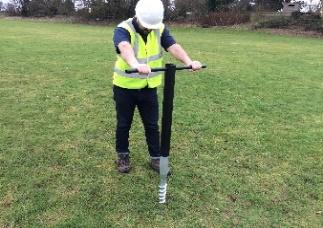 Using the installation tool turn the ground screw into the ground using a little downward pressure to start. Once the ground screw has been inserted around 100mm it will begin to pull itself into the ground, less downward force is then necessary. Turn the installation tool until the ground screw is fully installed or until it becomes too difficult to turn. This will depend on ground conditions, in general, for most ground conditions, it is possible to turn the ground screw on your own until it is fully installed to ground level or desired level.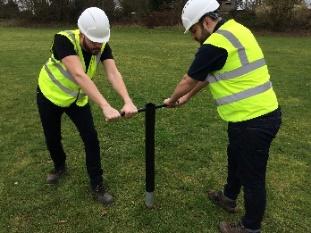 If the ground is particularly dry it may be necessary to have a 2nd person to help turn the installation tool. Each person should pull on either side of the handle until the ground screw is fully installed.
Top Tips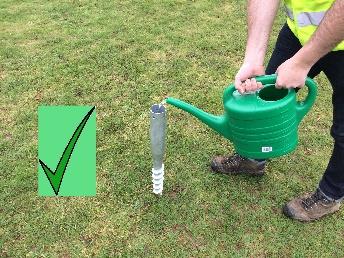 In drier conditions you can pour water in and around the ground screw prior to installation to soften ground. Wait a few minutes for water to disperse through the drain hole at the bottom of the ground screw, then install your ground screw. Only fill the ground screw once.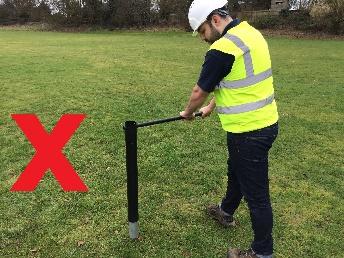 Unless you are tight against an obstruction and have no room to turn the installation tool handle, keep the handle in the centre of the tool . If extra force is required to turn the ground screw use 2 people to install as described above.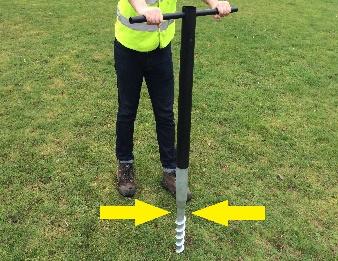 For every ¼ turn of the installation tool the ground screw will move 10mm further into the ground. You might find this information helpful if you are installing several ground screws that need to be level with each other.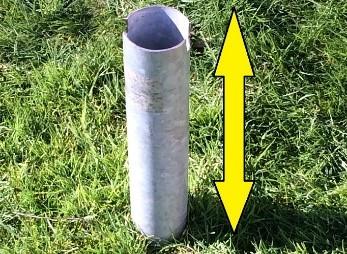 750mm Ground Screw
Min / Max Installation Range: Ground level to 275mm above ground level.
550mm Ground Screw
Min / Max Installation Range: Ground level to 90mm above ground level.
FAQ's
Here are some common questions about our self-installation ground screws. If your query is not answered, please email us and we will endeavour to help you.
Are ground screws easy to install?
Yes, it takes less than 1 minute to install a ground screw. Click to see our INSTALLATION VIDEO
Are your ground screws strong and safe?
Yes. As they are installed, they compact the ground around them and become very stable.
How many ground screws do I need ?
The table at the top of this page will act as a good guide, but please email us if you require any further help.
How long are the self-install ground screws?
Each ground screw is 550mm or 750mm from top to point.
How many ground screws do I need to install my Shed/Summerhouse/Decking base/Log Cabin/Workshop?
The table at the top of this page will act as a good guide, but please email us if you require any further help.
What weight will the ground screws withstand?
The 550mm ground screw will withstand up to 2.3KN (0.23 Tonne) and the 750mm ground screw will withstand 4.28KN (0.43 tonnes) of axial pressure depending on ground conditions. Please see INSTALLATION GUIDE AND CALCS for full information.
If I'm building decking and I want to put a Hot Tub on top will I need extra ground screws?
Yes, it is advisable to give extra support under the hot tub, contact us with the spec of your hot tub and we will advise what extra you need.
Do ground screws hold water?
No, there is a drain hole at the bottom.
No, they are completely galvanised.
Can I remove ground screws?
Yes. They can removed and relocated and re-used at any stage.
How far does the ground screw move with 1 revolution of the installation tool?
One revolution will install the ground screw 40mm further into the ground. Therefore, a quarter turn will be 10mm & a full turn will be 40mm.
Can I adjust the position of the fixing point when using ground screws for floor joists?
Yes. There is a handy adjusting bracket system which allows flexibility.
If I have a slope on my ground, but I need to install my Shed/Deck so it is level, can I leave some of the ground screw above ground level at one end?
Yes, for a 750mm ground screw, up to 275mm of the screw can be left proud and for a 550mm ground screw, 90mm of the screw can be left proud to help take up the fall of your ground.
info@groundscrewcentre.co.uk
TEL: 024 76 108109